Since 2005, I've worked with Promedia Publishing to wrangle the models for their magazines, and occasionally shoot them as well. This originally started with OverRev Magazine, but when that magazine was retired, the features rolled over to Race Pages. For those who don't know, Race Pages is the publishing end of Promedia, with the National Mustang Racing Association (NMRA) being the racing end of the business.
We found Teresa Menconi via Model Mayhem, and she was great to work with. For each issue, we shoot a handful of products for the product section, then take a few extra shots with the model for their feature.
Teresa starts out modeling an OBD-II scanner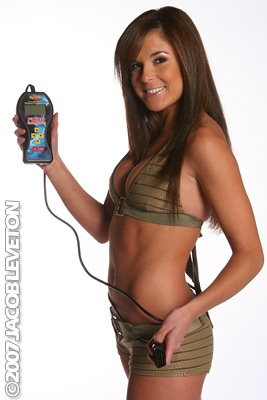 We moved on to a digital fuel pump controller and a Wilson throttle body.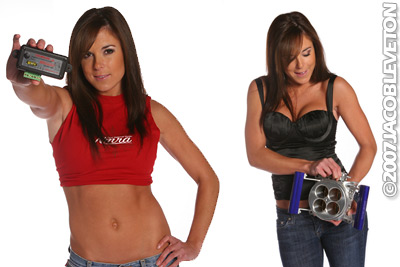 We finished up with a few poses using one of the many airsoft pistols laying around the office. Don't mess with Teresa!