Out of the blue, I got a phone call from Ray Allan David asking if I could help him out with a quick photoshoot. I knew Ray from the car industry, and at the time, he worked at a publisher who not only published a car magazine but also had some titles in the music industry. He was working on a short deadline, and needed some products shot that same day. Luckily for him, I lived just a few blocks from the OverAmerica office, and had the afternoon off from work. Being a fellow creative, Ray pretty much gave me open reign creatively to get the shots they needed.
First shot was a set of chocolate bars from a private chocolate factory. We decided to do the shoot in the office fridge, with just ambient light and whatever condiments were remnant in the fridge.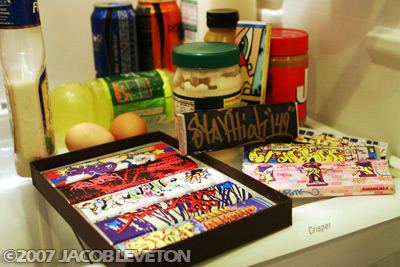 Next up was a set of 4 T-shirts. We only had one mannequin, and Ray wanted to fit all 4 t-shirts into 1 shot. Luckily, the office is on Sunset Blvd, and we found an extra turntable in the office that we could use for part of the shot as well. The first composition was shooting across Sunset to the South.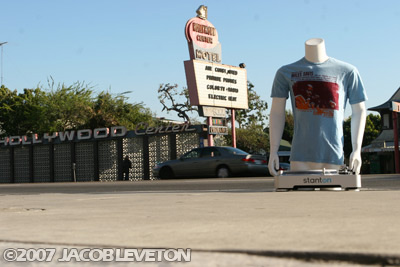 It wasn't a bad frame, but it just didn't jump at me. Plus, the middle mannequins would block the sign that says "Hollywood". Perhaps this would work for 1 shirt, but not for all 4. Instead, we shot towards the East, down the sidewalk.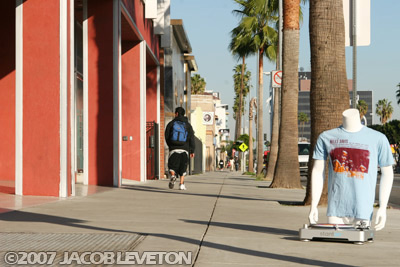 Ahhhhh, much better! The palm trees definitely screamed "Hollywood", and the red building added some nice color to the frame to offset the muted colors of the shirts. We setup a tripod, shot a few frames per shirt, then composted them together.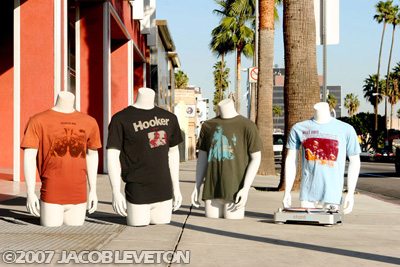 There we go! Looking back, I wish I had switched the olive green shirt with the burnt orange shirt to help offset the colors in the shot, but I like how this all came out. Simple, yet conveys the purpose well. These 2 shots ran in BPM Magazine.
To date, this is still one of my favorite product shots.
Tags: BPM Magazine, chocolate bars, Hollywood, Shwag, t-shirts